Education & Global Alumni Program
Update: Student visa program – July 2020: On 20 July the Australian Government announced a number of changes to student visa arrangements to support international students during the COVID-19 crisis. You can read more here.
Why Australia for Education?
Australia is one of the world's leading providers of high quality education for international students. With over 30 years hosting international students, Australian governments, universities and training providers have a wealth of expertise in supporting students and offering a richly rewarding experience.
Australia offer a diverse range of study options for international students. You can study at all levels of education from primary and secondary school, to vocational education and training (VET), from English language courses to higher education (including universities). In fact, with over 22,000 courses to choose from across 1,100 institutions, Australia is a strong competitor in international education, ranking eigth in the Universitas 2019 U21 Ranking of National Higher Education Systems.
Regardless of what you are studying or how long you are studying for, Australia's laws promote quality education and protection for international students.
Australia is proving increasingly popular for Spaniards studying overseas. In Europe, Spain is a leader for number of students studying English language courses in Australia and it is second highest in total student numbers studying in Australia.
If you would like to know more, visit Study in Australia for more information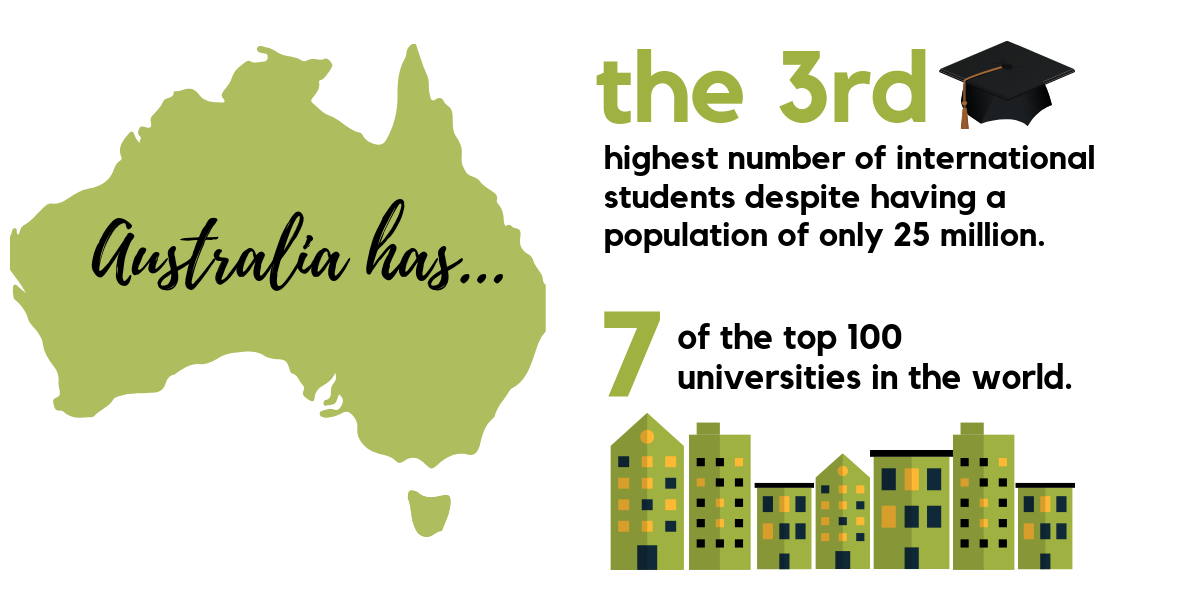 Why Australia?
Australia's strong academic credentials and institutions are very important, but so is Australia's highly rated cities that house these institutions around the country. Australia has four of the 25 best cities in the world for students based on student mix, affordability, quality of life, and employer activity – these are all significant elements for students when choosing the best study destination.
The Australian Government offers students a range of international scholarships that can help support their studies in Australia. Through the Study in Australia website students can also find and apply for a range of international students scholarships available. Australia is making it easier for students to come and experience the difference an Australian education can make to their future career opportunities.
Australia offers students a range of visa options for their studies, with the opportunity to study, work and travel. Have you heard of the Work and Holiday visa (subclass 462) program available to Spanish nationals? You can find out this and more information on other visas at the Department of Home Affairs website.
Did you know Australia has produced 15 Nobel Prize laureates?
Every day over 1 billion people around the world rely on Australian discoveries and innovations to make their lives, and the lives of others, better. Innovations include:
Google Maps

Google Maps was designed in 2004 at the Sydney-based company Where 2 Technologies. A year later, the company was sold to Google, which would later turn it into Google Maps.

Penicillin

In 1939, Australian scientist, Howard Florey, purified penicillin from a special strain of mould. The team demonstrated penicillin's ability to fight bacterial infection in mice and, later, humans.

Wi-Fi

In the 1990s, a research team of Australian inventors, created a technology for the high-speed wireless delivery of data between devices over a network. Today this technology is more commonly known as "Wi-Fi."

Pacemaker

Australian doctor, Mark Lidwill and physicist Edgar Booth developed the first artificial pacemaker in the 1920s. Today, more than three million people worldwide rely on pacemakers to keep their hearts beating properly.


Bionic Ear

Professor Graeme Clark invented the first bionic ear at Melbourne University in the 1970s. The first prototype was implanted in a person in 1978. So far, the bionic ear has brought hearing to more than 180,000 deaf and partially deaf people worldwide.

Cervical Cancer Vaccine

In 2006, Brisbane-based medical researchers, Professor Ian Frazer and Dr Jian Zhou, developed the world's first anti-cancer vaccine. Since 2008, the vaccine has been approved for use in more than 120 countries.

Black Box Flight Recorders

Australian scientist, David Warren, invented the world's first black box flight recorder in 1953 while working at the Aeronautical Research Laboratory.

Ultrasound

In 1976, Australian Ausonics commercialised the ultrasound scanner. This discovery forever changed pre-natal care and gave expecting parents a window to the foetus without x-ray exposure.
For more information on how to start your educational journey, please visit the Study in Australia website and the Department of Home Affairs website for information on visas.