News from July 2020 - June 2021

September 2020
Ambassador Sophia McIntyre presents her credentials in Spain
On 30 September, Ambassador Sophia McIntyre presented her Letters of Credence to His Majesty King Felipe VI at the Royal Palace in Madrid, officially taking up her position as Australia's Ambassador to Spain. Visit the Spanish Royal House website for more information about this ceremony.

September 2020
New round of bilateral political consultations between Australia and Spain
On 30 September, Australia and Spain held a new round of bilateral political consultations, which were celebrated virtually due to the COVID-19 situation. Australia's and Spain's Foreign Ministries a wide range of aspects of their bilateral relations: the commitment to multilateralism to address global challenges, potential areas to reinforce the already strong trade & investment ties, and opportunities to continue cooperating in the defence and security fields.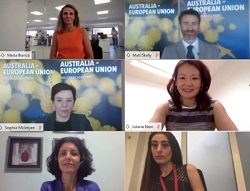 July 2020
#Bringing trade opportunities in Australia closer to Spanish companies
On July 17, Ambassador Sophia McIntyre hosted her first public event with the webinar "Australia: opportunities in uncertain times" in collaboration with CEOE. The event brought together experts from our diplomatic missions in Brussels and London, from Austrade y CEOE. A perfect occasion to promote opportunities for Spanish companies in Australia, in areas such as infrastructure, and to highlight the future benefits of the Free Trade Agreement betweeen Australia and the EU.
July 2020
Our new Ambassador Sophia McIntyre presents her Letters of Credence to the Ministry of Foreign Affairs
On 13 July, our new Ambassador Sophia McIntyre presented her Letters of Credence to the Deputy Director of Protocol of the Spanish Ministry of Foreign Affairs, formally marking the beginning of her position in Spain. To know more about our new Ambassador, the web section "About Us".
July 2020
#Words4Diversity: Words from Australia in favour of LGBT+ rights
On Pride Day 2020, we launched a virtual campaign using #poetry as a tool to advocate for diversity: #Words4Diversity. We collaborated with two renowned LGBT+ authors from Australia, SPM and Ellen Van Neerven, who shared their meaning of the word "diversity" through their writings. Listen to them again by clicking on the links below:SPM, "Words For Diversity" & Ellen Van Neerven, "Queens".
Archived news
Because there are some news we want to keep… here you can access our archived news.